Equipment marketplace
Your quote cart is empty!
Buy
Quote Cart
Your quote cart is empty!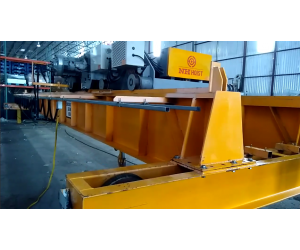 TK701 - NHM - NHG 224 Bridge Crane (2003)
Images
Generate PDF
Brand:
NHM
Product Code:
- NHG 224 Bridge Crane
Availability:
In Stock
Price: $0.00
Ex Tax: $0.00
25/10 Ton Bridge Crane
NHM NHG 224 2003
Brand: NHM
Model: NHG 224
Mfg. year: 2003
Bottom Riding: 3.75 ft
Bridge Longitude: 50 ft span (49.21 ft exact)
Bridge Width: 4 meters. or 13.12 ft
Voltage: 440V 3 Phase
Capacity: 25 tons and 10 tons on individual hoist
Wire rope: 6XFi (29)
Auxiliary hoist: chained to the main hoist
Trolley weight: 1250 kg or 11,339 lbs.
Trolley speed: up to 40 FPM
Wheel width on rail: 6.5 in.
Rail span: 2 in
I beam measurements: 40 in tall x 2ft wide each x 2
I beam weight approx.: 25000 lbs. x 2 or 11,339 kgs. x 2 (including 2 transversal girders that allow movement from left to right)
Hook weight: 86 kg x 2. (25-ton hook and 10-ton hook)
Control allows you to move: Both Hooks up and down, Trolley front and back and Bridge from one side to the other. BOTH HOISTS CAN BE CONTROLLED BY REMOTE
Max height of hoist: We are working on finding it by measuring length of the chain. Currently disassembled. I will have this for your soon.
Span between I beams: 69 in approx.
Runway, Uprights (you need max height of the hoist) and rail are not included (This is where you put the crane to slide from right to left).
Write a review
Your Name:
Your Review:
Note: HTML is not translated!
Rating:
Bad
Good
Enter the code in the box below: