Equipment marketplace
Your quote cart is empty!
Buy
Quote Cart
Your quote cart is empty!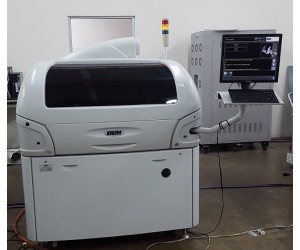 TK728 - DEK Horizon 01i (2005)
Images
Generate PDF
Brand:
DEK
Product Code:
Horizon 01i
Availability:
In Stock
Price: $0.00
Ex Tax: $0.00
DEK Horizon 01i
Manufacturer: DEK
Model: Horizon 01i
Year: 2005
Description: Screen printer
Software
Software Type: Microsoft Windows XP Embedded Version 2002 Service Pack 3
Software Type Machine: DEK 09 SP13
Machine Specifications
Touch Sceen: No
In Production: No
Operational: Yes
Machine S/W CD: No
Photos: Yes
Videos: Yes
Camera type: Gold
Documentation: No
PCB Flow: Left to Right, Right to Left
Rail Width Control Type: Automatic
Under PCB Support: No
Print Area: Board Length 50 to 620mm Board width 40.5 to 508mm
Stencil Positioning: Manual
Screen cleaner type: Gold
Voltage: 115
Weight: 677 kg
Pressure: 5-8 Bar
Frequency: 50/60 Hz
Full Load Current: 20
Password (upspass01): No password
Write a review
Your Name:
Your Review:
Note: HTML is not translated!
Rating:
Bad
Good
Enter the code in the box below: