Equipment marketplace
Your quote cart is empty!
Buy
Quote Cart
Your quote cart is empty!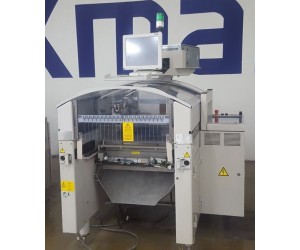 TK738 - Siemens F5HM Pick & Place (2003)
Images
Generate PDF
Brand:
Siemens
Product Code:
F5HM Pick & Place
Availability:
In Stock
Price: $0.00
Ex Tax: $0.00
Siemens Siplace F5HM
Brand: Siemens Siplace
Model: F5HM
Year: 2003
Serial: 596-12022412
Process: Pick and place /Collect and place
Weight: 2320 kg
Pressure: 5.5-8 bar
Frecuency: 50/60 Hz
Nominal Voltage: 110/208 V
Range of components
Standard vision module 0603 to 55 x 55mm
DCA Vision module: 0.5 x 0.25mm to 55 x 55mm

Benchmark placement rate
6-nozzle revolver head 8000 CPH
Pick and Place head 1800 CPH
Accuracy at 4 sigma
6nozzle-revolver head ± 70µm
± 60µm
Pick and place head ± 50µm
± 40µm
PCB dimensions: 50 x 50mm to 460 x 460mm
(460 x 508mm)
Feeder capacity: Max. 80 x 8 mm tracks
Component table: Change over table, waffle pack changer, manual trays
Types of feeder modules: Tapes, stick magazine, bulk cases
Operating system: Microsoft windows/ RMOS
Connection: In line or standalone
space required 4mE /module
Write a review
Your Name:
Your Review:
Note: HTML is not translated!
Rating:
Bad
Good
Enter the code in the box below: