Equipment marketplace
Your quote cart is empty!
Buy
Quote Cart
Your quote cart is empty!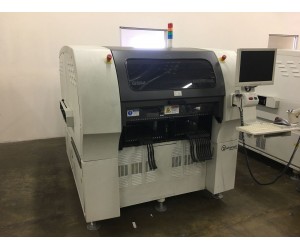 TK752 - Universal GSM Genesis GX11 (2007)
Images
Generate PDF
Brand:
Universal
Product Code:
GSM Genesis GX11
Availability:
In Stock
Price: $0.00
Ex Tax: $0.00
Universal Genesis GSM GX-11S (2007)
Name: Universal
Model 4992A
Description: Genesis Platform GX-11S
Year: 2007
Serial No.:10091771
Weight: 3253 kg
Machine dimensions:
Length: 1676mm
Depth 2248mm
Height: 1905m
Placement 1 CTR: 95615604
Placement 2 CTR: N/A
Software Type: Microsoft Windows 2000 5.00.2195 Service pack 4
Software Type Machine: UPS+Control Panel (SM UPS+Version 6.3.2.1
Range of components 0603 inch to 55mm square
Manuals: Voyager on machine CPU
Fiducial camera type: Firewire 1394 PEC
Component camera type Head 1: Front ULC Magellan Firewire .94 mil per pixel
component camera type Head 2: Rear ULC Magellan Firewire 2.3 mil per pixel
Beams/Gantries: 1
Front Head Type: FlexJet 3 7 spindle
Spindle on Head: IL4 HF In Line 4 High Force
PCB Flow: Left to Right
Placement Rate: 15,300 Max CPH
PCB Dimensions: Length 50.8 to 508mm Width 89 to 508mm
Rail Width Control Type: Automatic
Tray Unit/Tray Tower (MTC,PTF, WPC): No
Nozzle changer available?: Yes
PVS Bar Coding: Yes
Component feeder capacity: 72 slot dual-track 8mm
Quick Product Change-over: Yes
Reject Belt: Optional
Voltage: 200-240 Volts
Pressure: 90 Psi
Frequency: 47-63 HZ
Full Load Current 30 Amp
Machine dimensions L 1676mm Depth 2248mm H 1905m
Write a review
Your Name:
Your Review:
Note: HTML is not translated!
Rating:
Bad
Good
Enter the code in the box below: