Equipment marketplace
Your quote cart is empty!
Buy
Quote Cart
Your quote cart is empty!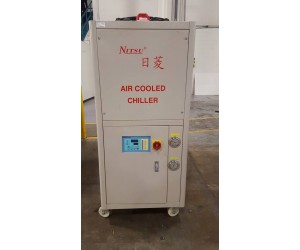 TK732 - Nitsu HT-06 A Water Chiller
Images
Generate PDF
Brand:
Nitsu
Product Code:
HT-06 A Water Chiller
Availability:
In Stock
Price: $0.00
Ex Tax: $0.00
Nitsu Air Cooled Chiller HT-06A
NITSU series of Industrial Chillers provide chilled water from 3-30°C,special model can attain -15°C ( temperature tolerance ±1°C).
The chillers compress air-cooled and water-cooled units, with cooling capacity range from 1,316 - 156,249Kcal/h (0.5-60HP), suitable for various industrial application. When apply to plastic injection moulding and vacuum moulding, the chillers controls precisely the mould temperature to reduce moulding cycle and enhance product quality.
The chillers are also suitable for cooling machine tools like CNC punching machine, grinder, machining centre etc. to improve performance. Other industries such as electroplating, food and dyeing are also applicable with chillers.
Nitsu HT-06A Specifications
Cooling Capacity KW (50Hz): 16.9
(60Hz): 19.77
kcal/h (50Hz): 14,530
(60Hz): 17,000
Total Input KW: 6.6
Running Current (Max.) A: 16
Power Supply: 3N~380V/ 415V 50Hz/ 60Hz
Refrigerant Name: R22
Charge (kg): 5
Control Type: Capillary tube
Compressor Type: Hermetic scroll or Piston
Motor (KW): 4.5
Air Flow m³ /h: 6000
Chilled Water Flow (50Hz): 2.91
m³ /h(60Hz): 3.41
Tank m³: .11
In/Out Pipe Size: G1"
Pump Motor KW: .75
Pressure KPa: 290
Dimension: W 1200mm X H 1480mm X D 650mm
Weight kg: 250
Write a review
Your Name:
Your Review:
Note: HTML is not translated!
Rating:
Bad
Good
Enter the code in the box below: