Equipment marketplace
Your quote cart is empty!
Buy
Quote Cart
Your quote cart is empty!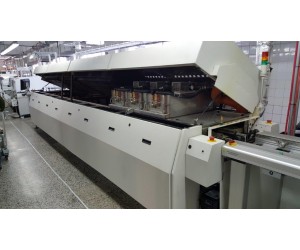 TK775 - Speedline OmniES 10 (2012)
Images
Generate PDF
Brand:
Speedline
Product Code:
OmniES 10
Availability:
In Stock
Price: $0.00
Ex Tax: $0.00
Speedline Technologies OmniES 10 (2012)
Manufacturer: Speedline Technologies
Model: OmniES 10
Year: 2012
Serial#: OES10-20026
Volt: 380
KVA: 46 Hz: 50
Flow Direction: Left to Right
Edge Rail only
Center Board Support
Heating zones: 10
Blower: 1
Largest motor load: 21.7 A
Max Heating Capacity: 36kW
Lead-free QA test vehicle
Polyscience Chiller available (Model: 66860T57A270D, S/N: 3F12A1743, Voltage: 230V)
Machine Specifications:
Destination: Export
Cooling Type: Inert
On Board Chiller: Refrigerated
Oxygen Analyzer: Yes
Bar code Scanner: Yes
Conveyor Type: Pin Chain
Central Board Support: Yes
Chain Oiler: Standard
Nitrogen Capable: Yes
Smema: Yes
Light Tower: Yes
UPS Backup: Yes
Pin chain: 828-990mm (32.6-39in)
Access clearance: Front 199mm (7.8in) Rear: 1010 (39.8in) Height 1598mm (62.9in)
Heater chamber lenght: 3855mm (151.8in) (not including cooling module)
Zone dimensions: L 345mm (13.6in) x W 739mm (39.7in)
Machine Dimensions: L 6439mm (253.5 in) x W 1367mm (53.8 in) x H 95-257mm (3.7-10.1 in)
Machine Weight: 2000kg (4000lbs)
Smema Interface: Connections at load and unload end of machine
Intelligent Flux colletion: Two levels of flux collection depending on solder paste usage
Write a review
Your Name:
Your Review:
Note: HTML is not translated!
Rating:
Bad
Good
Enter the code in the box below: