Equipment marketplace
Your quote cart is empty!
Buy
Quote Cart
Your quote cart is empty!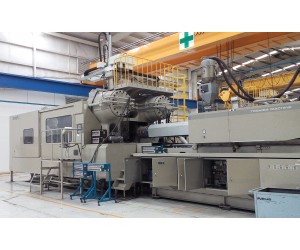 TK483 - Toshiba IS 2200DF-200A Injection Molding Machine (2008)
Images
Generate PDF
Brand:
Toshiba
Product Code:
IS 2200DF-200A Injection Molding Machine
Availability:
In Stock
Price: $0.00
Ex Tax: $0.00
TOSHIBA IS2200 DF-200A (2008) Injection Molding Machine
Make: Toshiba
Model: IS 2200DF-200A
Year: 2008
Serial #: 826506
Hydraulic or Electric: Hydraulic
Controls: INJECTOVISOR V21
Unit's specifications
Tonnage: 2200 STD Tons
Shot Size (max gram weight): 10860 gr.
Clamp Style: Lock Nuts system
Clamping Force: 21500 kN
Clamp Stroke: Max 2600mm, Normal 1600mm
Open Daylight (Max): 2700 ~ 3500mm
Thickness of Mold: 900 ~ 1700 mm
Ejecting Force (Hydraulic): 672 kN
Ejector Stroke: 350 mm
Min and Max mold opening: 900-1700mm
Distance between tie bars (H x V): 1800mm x 1600mm
Platen Dimensions (H x V): 2450mm x 2250mm
Core-Pull: Yes
Screw diameter: 140mm
Power Specifications: 480 VAC, 3 Phase, 60 Hz
Hour meter: 29206 h
Machine specifications
Dimensions: 13.5m x 4m x 3.6m
Weight: 150 TONS
Write a review
Your Name:
Your Review:
Note: HTML is not translated!
Rating:
Bad
Good
Enter the code in the box below: