Equipment marketplace
Your quote cart is empty!
Buy
Quote Cart
Your quote cart is empty!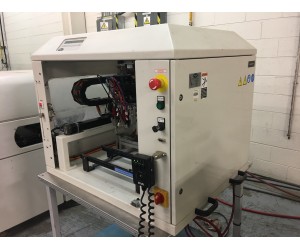 TK1106 - PVA 350 Bench-top Dispenser (2010)
Images
Generate PDF
Brand:
PVA
Product Code:
350 Bench-top Dispenser
Availability:
In Stock
Price: $0.00
Ex Tax: $0.00
PVA 350 Bench-Top Dispensing/Caoting System (2010)
Brand: PVA
Model: 350
Type: Dispensing/Coating System, Bench-top
Year: 2010
Serial #: W4035
The PVA350 is a flexible three or four-axis robot that is suitable for virtually any benchtop or laboratory selective coating and automated dispensing application. The PVA350 features a robust overhead motion platform employing brushless DC servo motors and precision ball screw slides. Encoder feedback on all axes assures a closed-loop process that is consistent and reliable. The PVA350 platform is enclosed for added protection during spray applications.
The PVA350 has many integrated features including:
• A compact, tabletop design that favors portability
• Large work area
• Optional four-axis tilt and rotation motion
• Optical encoder feedback on all axes of motion
• Coordinated motion in all axes simultaneously RS232 communication port
• Front panel LCD screen and remote trackball teach pendant
• Exclusive PathMaster® programming environment
• PVA's award winning global service network
Machine Specifications:
Work Area
1 Valve:
365 mm x 378mm x 101 mm (14.375" x 14.875 in x 4.0")
Repeatability
0.025 mm (0.001")
Resolution
0.005 mm (0.0002")
Motor
Brushless DC servo
Drive Mechanism
Ball screw
Software
PathMaster® Windows® with offline image programming
Power
120 V, 220 V +/- 10%, / 50-60 Hz
Air
80 PSI dry unlubricated air
Certification
CE certified
Configuration:
Dispensing Valve 1
FCS100-ES (Extended Spray Valve)
Dispensing Valve 2
FC100 (Front Closing High-Pressure Valve, Micrometer)
Material Tank
1 gallon
Write a review
Your Name:
Your Review:
Note: HTML is not translated!
Rating:
Bad
Good
Enter the code in the box below: