Equipment marketplace
Your quote cart is empty!
Buy
Quote Cart
Your quote cart is empty!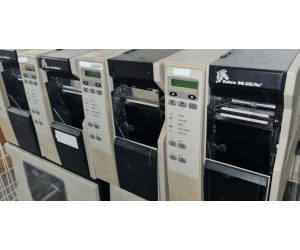 TK1159 - ZEBRA 96 XiIII Plus
Generate PDF
Brand:
ZEBRA
Product Code:
96 XiIII Plus
Availability:
In Stock
Price: $0.00
Ex Tax: $0.00
Zebra 96 XiIII Plus *multiple units available*
Standard Features:
Full function front panel and multilingual back-lit LCD display with user programmable password protection
Flash memory including 2.0MB non-volatile memory storage for downloadable objects
ZebraLink ™ - the revolutionary real-time connectivity and control solution
ZBI ™ (Zebra BASIC Interpreter)
WebView (requires optional ZebraNet ® PrintServer II)
Alert (requires optional ZebraNet PrintServer II)
Communications via serial RS-232 and bi-directional parallel port with auto detect
USB 2.0 (480 Mbits/second) port
Thin film print head with E 3® Element Energy Control
Thermal transfer and thermal direct printing of bar codes, text, and graphics
Dual media sensors, transmissive and reflective, selectable through software or front panel
ZPL ® or ZPL II ® programming language, selectable through software or front panel
ZBI ™ - Zebra BASIC interpreter for translation of foreign data streams into ZPL II
32 bit 133 Mhz RISC processor
16 MB SDRAM memory, 12 MB user-available, 4 MB non-volatile Flash memory
Type I, II linear memory only up to 32 MB and future availability of Type III Series PC Card Interface
Simultaneous ATA-style PCMCIA and Compact Flash (CF) memory card support up to 1 GB (current market availability) for additional storage of fonts, graphics, logos, templates, and label formats or preprogrammed with optional and international fonts. PCMCIA is externally accessible and hot swappable. CF is internal.
Clear media side door - easy monitoring of supplies usage without opening the printer
Zebra printer driver for Windows ™ 3.X and 95/98/NT/2000 operating systems
Internal real-time clock
Advanced label/media counters
Auto calibration-printer calibrates when printer is turned on or when printhead is closed with approximately two labels
Early Warning Systems-provide low label, low ribbon, and clean printhead alerts via the front panel and ZebraLink Alerts.
Click on "brochure" link to download detailed specifications.
Write a review
Your Name:
Your Review:
Note: HTML is not translated!
Rating:
Bad
Good
Enter the code in the box below: