Equipment marketplace
Your quote cart is empty!
Buy
Quote Cart
Your quote cart is empty!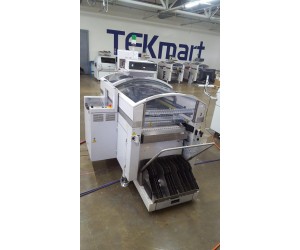 TK729 - Siemens Siplace S27 HM (2006)
Images
Generate PDF
Brand:
Siemens
Product Code:
Siplace S27 HM
Availability:
In Stock
Price: $0.00
Ex Tax: $0.00
Siemens Siplace S27 HM
Manufacturer:Siemens
Model: Siplace S27 HM
Year: 2006
Description: Chip-shooter
Run Hours: N/A
Placement: 69389283
Machine Specifications
Touch Sceen: Yes
In Production? No
Operational? Yes
Range of components: 0.6 x 0.3 mm2 (0201) to 32 x 32 mm2
Manuals: No
Machine S/W CD: No
Photos: Yes
Videos: Yes
Fiducial camera type: Default
Component camera type Gantry 1: RV Camera type 12 FOV 24x24
component camera type Gantry 2: RV Camera type 13 FOV 39x39
Component camera type Gantry 3: N/A
Conveyor Type: Dual Conveyor
Beams/Gantries: 2
Front Head Type:RV 12 nozzles head
Spindle on Head: 12
Rear Head Type: RV 6 nozzles head
Spindle on Head: 6
PCB Flow: Left to Right
Placement Rate: 6/12 19,500 cph
PCB Dimensions: 50x50 mm2 to 495x216 mm2/2"x 2" to 19.5"x8.5"
Software Type: Microsoft Windows XP Professional Version 2002
Software Type Machine: 505.05
Rail Width Control Type: Automatic
Tray Unit/Tray Tower(MTC,PTF, WPC): No
Nozzle changer available: Yes
Under PCB Support: No
PVS Bar Coding: Yes
Component feeder capacity:118 tracks, 8 mm tape
Tape Cutter: Yes
Feeder Setup Cart Qty.: Yes 2
Feeder Change-over Cart Qty.: No
Voltage: 208V 3 phase
Write a review
Your Name:
Your Review:
Note: HTML is not translated!
Rating:
Bad
Good
Enter the code in the box below: