Equipment marketplace
Your quote cart is empty!
Buy
Quote Cart
Your quote cart is empty!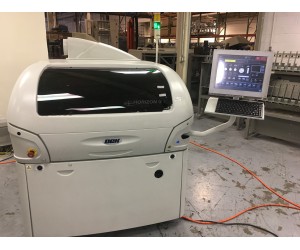 TK776 - Dek Horizon 01i Screen Printer (2008)
Images
Generate PDF
Brand:
Dek
Product Code:
Horizon 01i Screen Printer
Availability:
In Stock
Price: $0.00
Ex Tax: $0.00
DEK Horizon 01i (2008) Screen Printer
Brand: DEK
Model: Horizon 01i
Serial Number: 294664
Year: 2008
Voltage: 230V
Frequency: 50/ 60Hz
Camera type: Hawk Eye 1700
Operation System: Microsoft Windows XP Embedded version 2002
Software: 09 SP16 B203
FMI: Smema
Printing head: Squeegee
Stencil load: Manual
Inspection type: Basic board-Basic stencil
Temperature Control Module connection: Yes
Screen cleaner type: Gold
Under Screen Cleaner: Cyclone
Type: Single piece with 3mm round transport belts
Rail System: Automatic
Rail Justification: Front fixed rail
Rail width control type: Automatic
Clamping: Pneumatic
Width Adjustment: programmable motorised rear rail
Min. Board Size (Handling): 50mm(X) x 40mm(Y)
Max. Board Size (Handling): 508mm(X) x 508mm(Y)
Long Board: 50mm-620mm
Transport Direction: Right to left
Left to left
Right to right
Substrate Location: Patented over the top clamps
Underside Component Clearance: 3mm to 42mm
Substrate Thickness: 0.2mm to 6mm
Substrate Max. Weight: 1Kg
Substrate Warpage: Up to 8mm including substrate thickness
Single piece with 3mm round transport belts
Front fixed rail
Programmable motorised rear rail
Vision system: Cognex
Camera lightning: Software controlled programmable LED lightning
Fiducials: 2 or 3
Fiducial types: Synthetic fiducial library or unique pattern recognition
Fiducial size: 0.1mm to 3mm
Fiducial locations: Anywhere on substrate
Fiducial error recovery: Auto lightning adjustment
Auto fiducial search
Temperature: 10 to 35C (50 to 95F)
Paste Dispense: Yes
Paste disposition: No
Write a review
Your Name:
Your Review:
Note: HTML is not translated!
Rating:
Bad
Good
Enter the code in the box below: