Equipment marketplace
Your quote cart is empty!
Buy
Quote Cart
Your quote cart is empty!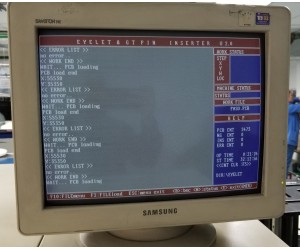 TK891 - NEXSCIEN HI-3600L Eyelet Machine (2006)
Images
Generate PDF
Brand:
NEXSCIEN
Product Code:
HI-3600L Eyelet Machine
Availability:
In Stock
Price: $0.00
Ex Tax: $0.00
NEXSCIEN HI-3600L Eyelet Machine (2006)
Brand: NEXSCIEN
Model: HI-3600L
Year: 2006
Serial #: 21-06-080
Type: Eyelet Machine
Voltage: AC220V 50/60Hz
Origin: Korea
Machine specifications:
BEC (Board Error Correction)
Method: LASER beam detect
Accuracy: 0.015 mm
Bowl Feeding System
Used bowl feeding system for optimization of eyelet pin loading
Work Board Holder (W.B.H.)
PCB LOading Speed: 4~5sec
Work Board Holder: Table internal and sensor for correcty PCB loading is installed
Board Handing System (Load & Unload)
Control Method: PLC
System: Vacuum to Magazine (User Selectable). Bridge so included in eyelet base machine (base Standard)
PCB Size: Min. 100mm x 80mm; Max. 330mm x 250mm
PCB Flow: Left --> Right; Right --> Left (User Select)
Magazine Loading: Upper --> 2; Bottom --> 3 (user Select)
Color: PANTONE-1C (User Select). Included eyelet base m/c
Write a review
Your Name:
Your Review:
Note: HTML is not translated!
Rating:
Bad
Good
Enter the code in the box below: