Equipment marketplace
Your quote cart is empty!
Buy
Quote Cart
Your quote cart is empty!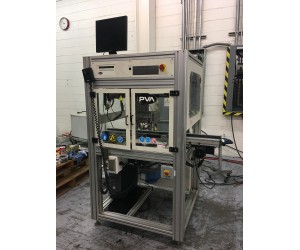 TK1107 - PVA 2000 In-Line Dispenser (2004)
Images
Generate PDF
Brand:
PVA
Product Code:
2000 In-Line Dispenser
Availability:
In Stock
Price: $0.00
Ex Tax: $0.00
PVA 2000 In-line Dispensing/Caoting System
Brand: PVA
Model: 2000
Type: Dispensing/Coating System, In-line
Year: 2004
Serial #: W2028
Configuration:
Dispensing Valve 1
FCS100-ES (Extended Spray Valve)
Dispensing Valve 2
FC100 (Front Closing High-Pressure Valve, Micrometer)
Material Tank
5 gallon
Specifications:
Travel Speed
0 to 700 mm/sec (0 to 27.6 in/sec)

Payload Capacity
25 pounds (11.4 kg)

Standard Work Area
500 mm x 500 mm x 100 mm (19.68 in x 19.68 in x 3.94 in)
Repeatability
0.025 mm (0.0001 in)
Positional Resolution
0.005 mm (0.0002 in)
Power Requirements
120V, 220V, +/-10%, 50-60 Hz
Air Supply Requirements
80 PSI dry, unlubricated air
Conveyor Speed
Programmable up to 1.67 in/sec
Conveyor Compatibility
SMEMA
Conveyor Process Flow
Programmable right to left or left to right
Conveyor Edge Clearance
SMEMA standard 0.185 in
Belt Conveyor Weight Limit
5 pounds per section
Chain Conveyor Weight Limit
15 pounds per section
Certification
CE certified
Write a review
Your Name:
Your Review:
Note: HTML is not translated!
Rating:
Bad
Good
Enter the code in the box below: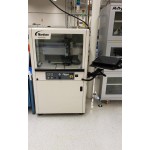 $0.00
Add to quote cart
Quote single item