Equipment marketplace
Your quote cart is empty!
Buy
Quote Cart
Your quote cart is empty!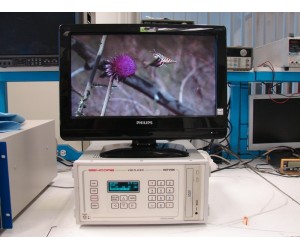 TK113 - Sencore HDTV996 Oscilloscope
Images
Generate PDF
Brand:
Sencore
Product Code:
HDTV996 Oscilloscope
Availability:
In Stock
Price: $0.00
Ex Tax: $0.00
Sencore HDTV996 Oscilloscope
Brand: Sencore
Model: HDTV996
Type: Oscilloscope
Serial: 6753409
Product details:
Provides a low cost ATSC 8VSB modulated output
Provides TTL and LVDS parallel Transport Stream output
Supports all ATSC formats including 720P and 1080I
Up to 100 minutes of programming capacity-Standard
Multiple input path for the data stream
TTL or LVDS parallel
Built in DVD
Optional 8VSB Receiver card for off air recording
Optional network card to import Transport Streams
Optional QPSK receiver for direct satellite recording
Optional SCSI drive interface for external drive connection
Looping capability and customization of the play list
Easy to use front panel
Write a review
Your Name:
Your Review:
Note: HTML is not translated!
Rating:
Bad
Good
Enter the code in the box below: