Equipment marketplace
Your quote cart is empty!
Buy
Quote Cart
Your quote cart is empty!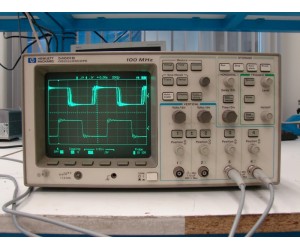 TK195 - Agilent 54601B Oscilloscope
Images
Generate PDF
Brand:
Agilent
Product Code:
54601B Oscilloscope
Availability:
In Stock
Price: $0.00
Ex Tax: $0.00
Agilent 54601B Oscilloscope
Brand: Agilent
Model: 54601B
Type: Oscilloscope
Serial: 3409A00541
Product details:
Installed HP 54657A Measurement /Storage Module.
Bandwidth: 100 MHz
Number of Channels: 4 ch
Simultaneous Channels: 2 ch
Simultaneous Maximum Sampling Rate/ch: 20 MSa/s
One ch. only max. sampling rate: 20 MSa/s
Max. Single Shot bandwidth: 2 MHz
Max. Record Length: 4000 pt/sec
Min. Vertical Sensitivity: 2 mV/div
Maximum Vertical Sensitivity: 5 V/div
Rise time: 3.5 ns
Number of Bits: 8 bits
Input Impedance: 1 MOhm
Input Coupling: AC,DC,GND
Maximum Input Voltage: 400 Vrms
Display Type: CRT Monochrome
Display Size: 17.78 cm
Write a review
Your Name:
Your Review:
Note: HTML is not translated!
Rating:
Bad
Good
Enter the code in the box below: