Equipment marketplace
Your quote cart is empty!
Buy
Quote Cart
Your quote cart is empty!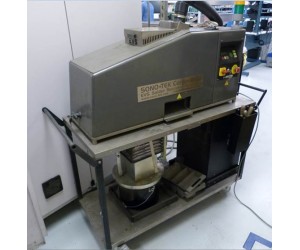 TK885 - Sono-Tek EVS 8K Solder Recovery System (2017)
Images
Generate PDF
Brand:
Sono-Tek
Product Code:
EVS 8K Solder Recovery System
Availability:
In Stock
Price: $0.00
Ex Tax: $0.00
Sono-Tek EVS 8K Solder Recovery System (2017)
Brand: Sono-Tek
Model: EVS 8K
Serial #: EVS-A115Y
Type: Solder recovery system
Remark: Pb solder used
The EVS Solder Recovery System is a patented process that uses heat and pressure inside a magnetized cylinder to separate and return your pure solder into the ingot tray. The remaining solder-depleted material is automatically ejected down a sealed chute into the dross bucket.
- Saves up to 50% in solder costs
- Reduces dedrossing time by up to 85%
- Recovers 50-80% pure solder by weight from solder dross
- Low running costs: only single-phase 220V and a standard air line
- Operates with an integral filtration system, eliminating smells and fumes
- Uses no chemicals or additives
- Reduces dross off-site by up to 80%; recovering waste material on-site
Machine specifications:
Compressed air: 95psi (6.5Bar) @2cfm (3.4m3/h)
Weight: 330lbs (150kg)
Dims: L44.9'' X W19.7'' X H39.7''
Voltage: 210-240V AC, 50/60
10 Kg (22 Pounds) Dross Capacity for Lead process
Includes:
- Advanced LCD control and service prompt system
- 4 wheeled steerable trolley/cart complete with stainless shelf
- Integral Solder Tray Lock
- Integral Filling Hopper Lock
- Sealed drop-through hopper
- Chute automated option
- Stand-alone slide out filtration system
- Light warning system
- Operating and maintenance manual
Write a review
Your Name:
Your Review:
Note: HTML is not translated!
Rating:
Bad
Good
Enter the code in the box below: